So Deevius and I attended the SC Comicon together, along with Midori, and I knew she was looking at LEGO minifigs as well as vintage toys. But I also caught her checking prices on sonic screwdriver replicas.
Well, caught off-guard as I was by her birthday, I went to my fall-back plan: the Panda's Amazon Prime membership, which promises free 2-day shipping on select merchandise from participating sellers.
I began my research! I knew that I wanted a replica that not only lit up, but made the sonic noise, too. I think I went through two or three listings before I came across the only one that made noise: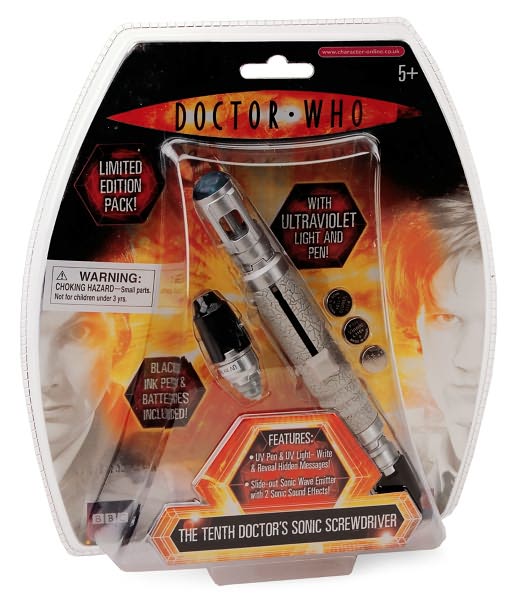 Courtesy of Barnes & Noble.com
I remembered seeing a Doctor Who display in the local Barnes & Noble, however, so I did a price comparison. With tax, I would only be spending a dollar or so more at a brick-and-mortar location, and not have to worry about shipping mishaps.
And then!
And then...
I remembered that I had an old, ancient giftcard from some friends. (Like, 2011, 2012 era.)
(Of course, there was a warning on the back of the card saying that after 12 months of inactivity, the company would deduct $1.50/month. I sent the Panda to the store with it anyway.)
Success! The full amount was there! Boo-yah!
But it wasn't enough! I am famous for handmade craftsies; Deevius is one of my main cohorts in crime! I couldn't let her down...
So on Friday (we celebrated on the following Monday) I went through Ravelry in search of free Doctor Who related patterns.
(I am fabulous at last-minute panics.)
I took the pattern I chose and appropriate yarn colors with me to Shadowmoor (since my character has a RP Skill - Weaving: Crochet tag, I can crochet while in play and have a good reason for doing so).
Yes, I did have to give Deevius a not-yet-finished project.
But the final result is totally worth the effort!
Pattern by Lucy Ravenscar here.
And of course I couldn't leave well enough alone:
Dalek: EXTERMINATE!!
Etho: ...? Kurt...someone here to see you...
I tweeted a similar picture to Kurt and Etho, as well as put it up on Deviant Art. If I'm lucky, I'll be able to get a picture of Deevius with the Dalek before she moves north. ^_^