I bet you guys had no idea that I like to make gifts for people instead of buying them.
What's with the crickets?
Oh, you totally knew, right?
Mike the coworker's birthday was last week, and as a guy, he can be notoriously difficult to craft for. He's a gamer/comic book/expensive nerd, and I do not have any kind of background in comics or related topics whatsoever. Even the Panda/DH isn't as big of comic geek as Mike the coworker.
But.
We went over for a dinner and game night at the beginning of the month, and we took a deck-building game called
Legendary
with us. The Panda and I have played together a couple of times, but never with four people.
Quick background on Legendary: it's a card game based on the Marvel comic universe, comprised of many little mini-decks that you mix together to create unique games every time. So you select your superhero team (in this case, we had Iron Man, Black Widow, Hawkeye, Deadpool, and a fifth person...maybe Nick Fury?) and shuffle their little decks together to make one large Hero Deck.
Then you also select a super-villain (such as Red Skull, Magneto, etc.) and some minion decks (Hydra minions, for example). The minion decks are shuffled together, and then are drawn from at the beginning of each person's turn. The super-villain sits in his own special place on the board and it's your job as a team to take him and all the minions down without letting too many of them escape.
Anyway...
I had forgotten for a split-second that Mike the coworker is a
huge
Deadpool fan. When we started playing, it was clear that the only hero cards he was going to pick up were Deadpool.
Knowing next to nothing about Deadpool (except that he's apparently a very meta character who marches to the beat of no man's drum), and finding no quick and easy patterns, I thought about the simple, icon-like pictures I'd seen: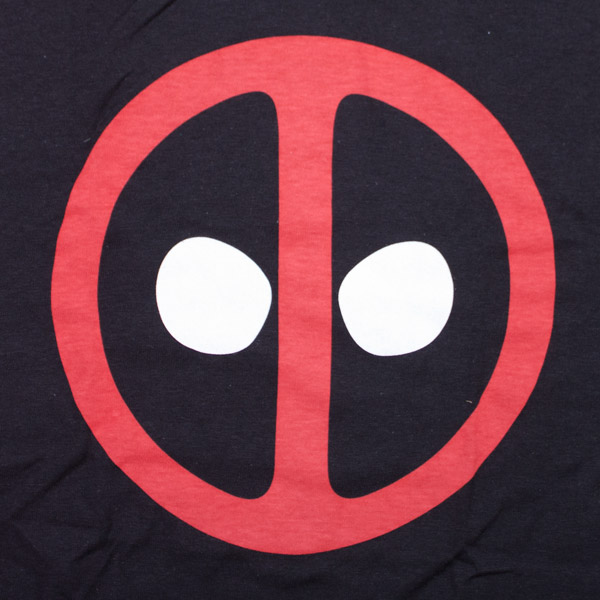 And of course, thought to myself: "That would make a great coaster."
So without further delay:
Deadpool Coasters
Supplies
80 yards black worsted weight yarn (set of four coasters)
small amount of red worsted weight yarn
3.75mm (F) hook
scissors
yarn needle
white fabric paint
Optional: meta-humor
Instructions
This pattern is done in joined rounds, not continuous rounds.
Begin with black yarn.
Rnd 1: Ch 3 (counts as first hdc). Hdc 7 in first ch. Join to initial ch with a sl st. (8 hdc)
Note: I like to place a stitch marker on my ch 2's, so they're easier to identify.
Rnd 2: Ch 2 (counts as first hdc here and throughout pattern). Hdc once in same st as ch. 2 hdc in each st. Join to initial ch 2 with sl st. (16)
Rnd 3: Ch 2, hdc in same st. Hdc in next st. (Inc in next, 1 hdc) 7 times. Join with sl st. (24)
Rnd 4: Ch 2, hdc in same. Hdc in next 2 st. (Inc in next, hdc in next 2 st) 7 times. Join with sl st. (32)
Rnd 5: Ch 2, hdc in same. Hdc in next 3 st. (Inc in next, hdc in next 3 st) 7 times. Join with sl st. (40)
Rnd 6: Ch 2, hdc in same. Hdc in next 4 st. (Inc in next, hdc in next 4 st) 7 times. (48)
Do Not Join Yet.
Color change: Pick up your red yarn, leaving an initial tail long enough to easily weave in later. Draw a loop through your ch 2 and final hdc, completing the joining sl st with your new color. Cut your black yarn, leaving a tail long enough to weave in.
Note: In the picture below, the two center coasters have one type of border (sl st in FLO) where red striping is visible on the coaster sides. The ones on either end do not (sl st through both loops). Your choice!
Continue with red yarn.
Chain 16.
Stretch your chain across the width of your coaster. Sl st into the hdc on the opposite side (see note above about FLO versus both loops).
Note: When crossing the initial st where you attached the red yarn, sl st over it as normal.
Continue to sl st loosely (otherwise the coaster will curl at the edges) in each st around. (48)
Do Not Join Yet. We are going to do an Invisible Join.
Ready? Watch this video from Planet June. (Jump to 1:16 to skip to the tutorial you need.)
Planet June/June Gilbanks is awesome!
Go support her and her fabulous tutorials on her website.
After that, you're ready to weave in ends!
Use white fabric paint to do the eyes for the coasters. (Why fabric paint? Because it washes well if beverages spill on the coasters.)
These are the eyes I painted:
And I'm sure that he has many more expressions, too!
Hope you enjoy the pattern, and of course as Deadpool is owned by Marvel/Disney, please do not sell anything made from this pattern. (Because who wants to be on the wrong side of a Disney lawsuit?)
Craft on!